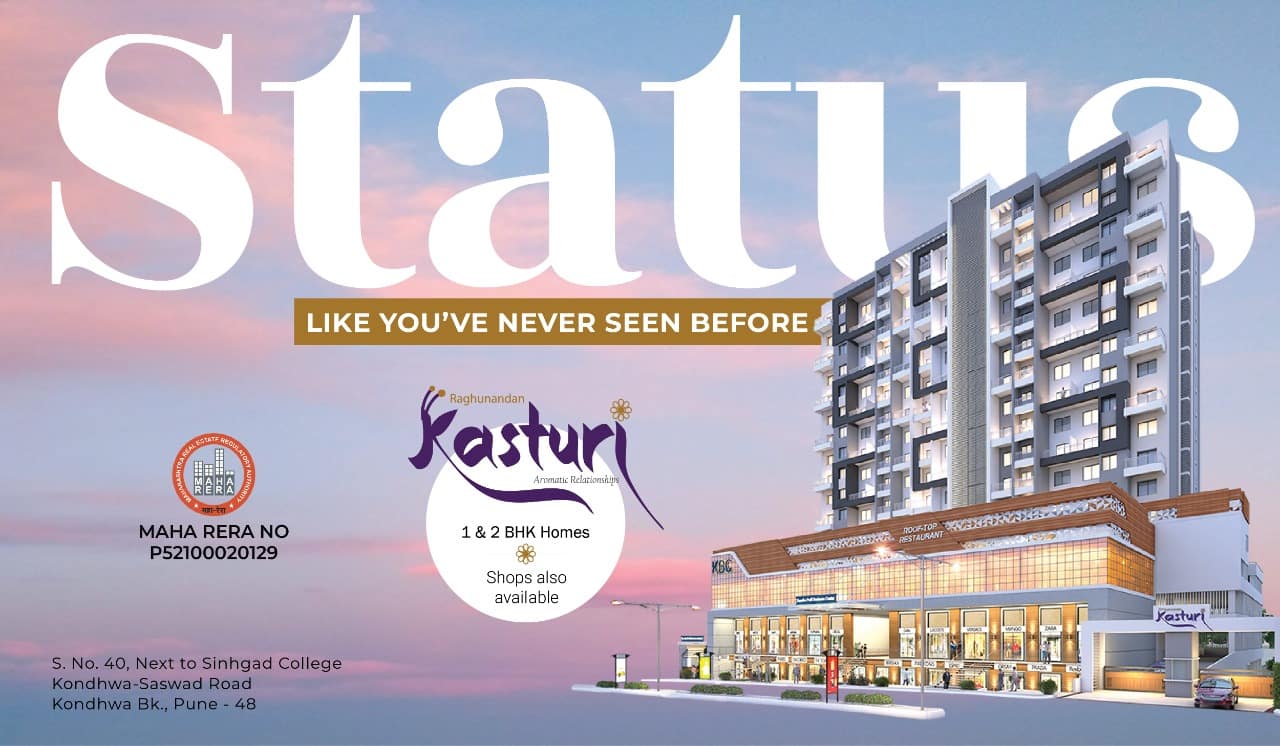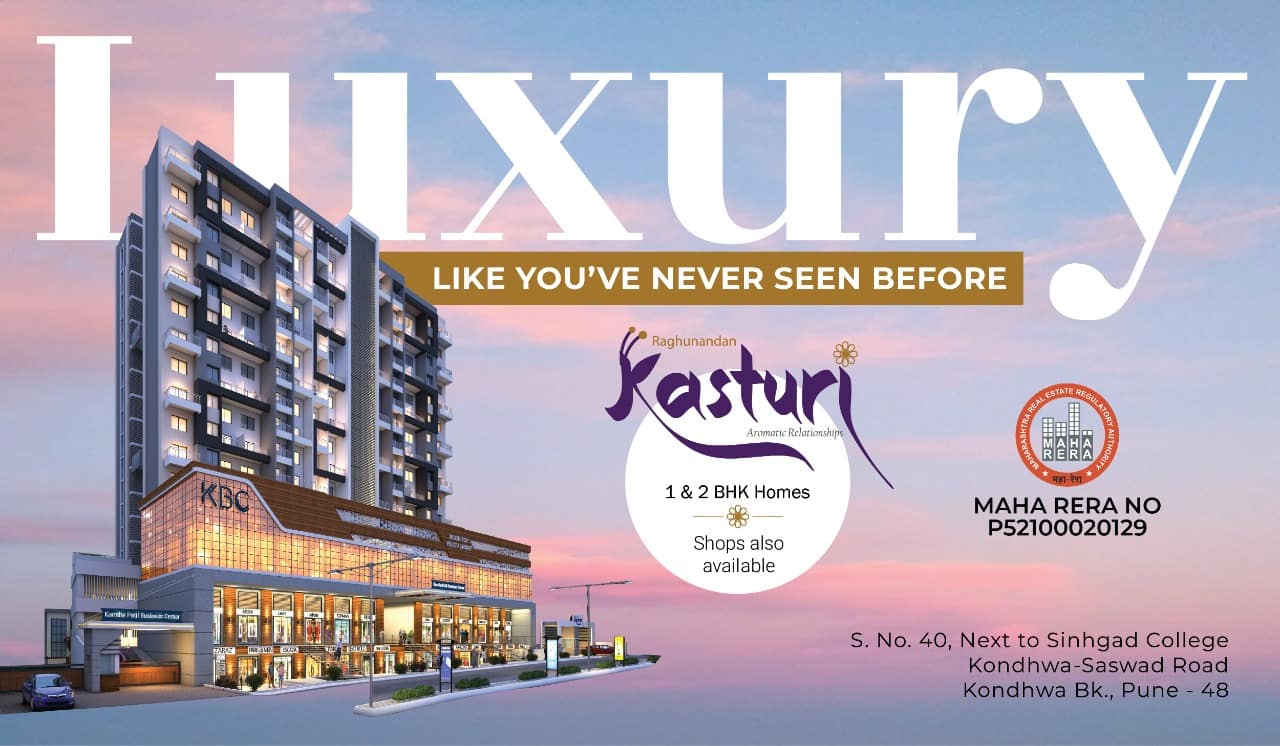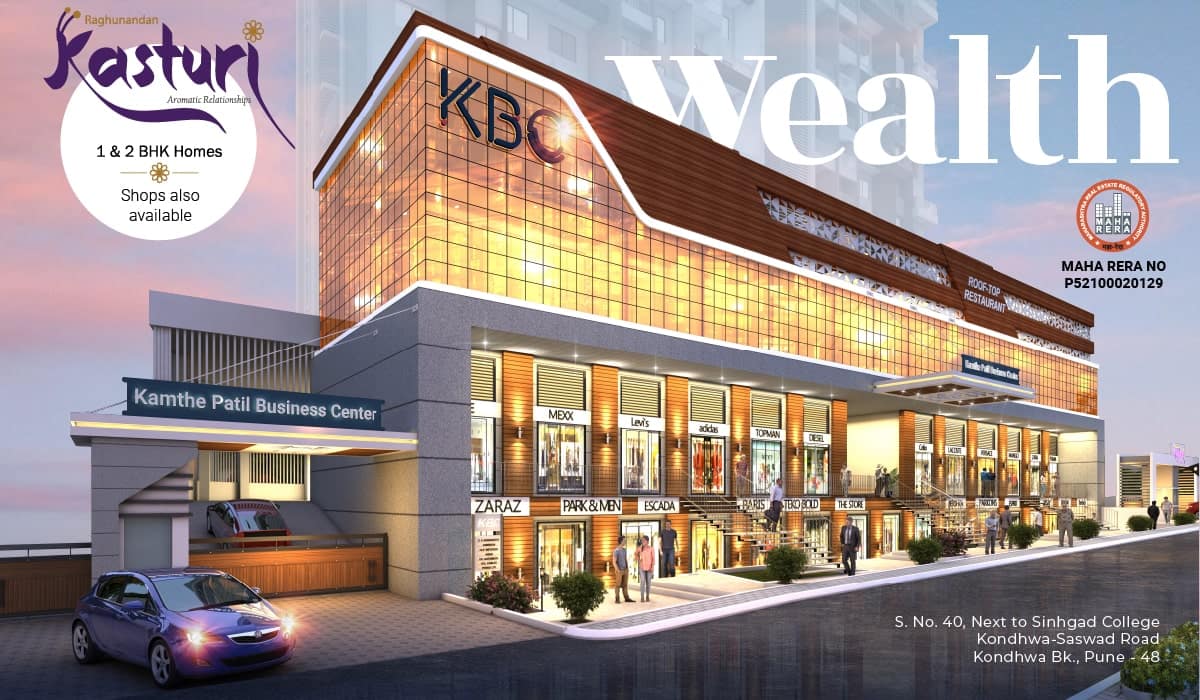 WhatsApp Image 2022-01-05 at 12.24.48 PM
WhatsApp Image 2022-01-05 at 12.24.16 PM
Where We Build Your Visions
Life blooms in countless delightful moments with your loved ones. Such beautiful relationships spread an enriching aroma of joy, love, trust, caring, sharing and togetherness an array of feelings and emotions make life a celebration. Welcome to a home that brings an aroma of happiness to your life in multiple ways. Kasturi by Raghunandan Group. A beautiful home at Kondhwa. Just the place to have a fulfilling life strategic location, quality construction and reliable builder. This residential opportunity is fragrant with blessings.
Got For it…
020 – 2693 2693 / 7448290290
Raghunandan Kasturi &
KBC (Kamthe Patil Business Center)
Kondhwa Bk.
S No. 40, Next to Sinhgad College, Kondhwa – Saswad road, Kondhwa Bk., Pune 411048
MAHA RERA No: P52100020129
https://maharera.mahaonline.gov.in/
You can use these sections to highlight the features of heading. Use these paragraphs to focus on the topic you want. Make sure you keep it short and attractive.
STRUCTURE
Earthquake Resistant RCC Structure 5" AAC Block Masonary for all internal for all internal & external walls. Internal Plaster Gypsum Finish.
DOOR
Designer laminated main door with good quality door fittings. Polished Granite door frames for Toilet & Bathroom door. Good quality Moulded doors with standard fitting for Bedrooms and toilets.
FLOORING
Vetrified 600X600 flooring in Leaving room, Kitchen, Bedroom 300X300 Antiskid Flooring in Toilet, terrace & Dry Terrace balcony.
TOILETS
Designer Wall Tiles upto lintel level in Toilet/Bathroom. Good quality Concealed plumbing & C.P. fitting in toilet of Jaquar make/equivalent. Commede with Flush valve in Master Bedroom attached toilet.
KITCHEN
Granite Kitchen Otta 8ft length for 1BHK & 10ft for 2BHK including stainless steel sink. Provision for water purifier Designer Kitchen Dado tile upto lintel level.
ELECTRIFICATION
Concealed copper wiring with MCB. Provision for Microwave / Mixer. Provision for Washing Machine in Dry Terreace area.
PAINTS
Oil Bound Distemper for internal Walls. Ace Paint & Apex Paint Combination for External Walls.
LIFT
One 6 Persons passangers automatic lift & one stretcher Lift of branded Make with Backup.
We are available for 24*7 to clear your doubts…
Mr. Milind Jogalekar
Management Head
Raghunandan Associate's Project Raghunandan Kasturi is the Sample of Excellent Architecture. For this project, they take the guidance of the best Consultant. For Example Landscape Designers, R.C.C. Consultant, Plumbing Consultant, Electrical Consultant, Fire Lighting Consultant, Project Management Consultant, Energy Management Consultant.